Pictures
Foreclosed Iraq Vet

Foreclosed! 3 tours in Iraq but no bailout for people like me.
Pictures from Other Sites
Random Pics
That's a Meme Tomorrow

Ultimate Teabagger Acronym

The REAL wealthy out-of-touch elitist

Who Are You Going To Shoot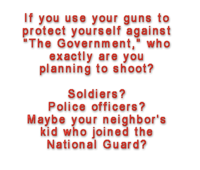 Please let me out of this binder

The Only Job the GOP Created

Coal is Not Clean

Nope Palin

Conservapedia

Republicans are Counting on You to Forget!