Pictures
Hoard Math & Science

I'm going tell people that the President is going to take away our math and science books. Maybe the same folks hoarding guns and ammo will buy these too.
Pictures from Other Sites
Random Pics
Tax Fairness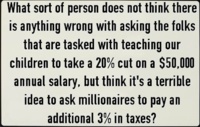 Can't Stand the Fan Club

America... A One Party Nation

Herding Cats is Tough Work

Attention Conservatives

AbortionStopper 5000 GOP Ultrasound Machine

Romeny's Polygamist Great Grandfather

Union Workers Make 29% More

Defend the Constitution

Why is my daddy an ass-hat?