Pictures
Dangerous to White America

Rep. Dana Rohrabacher on why the DREAM Act is dangerous to White America... Doesn't want minorities to be eligible for preferences made for white people.
Pictures from Other Sites
Random Pics
Working for the Lazy

Remember When Republicans Were Worried About Religion

Ron Paul/Paul Ryan Mash-Up

Who Are You Going To Shoot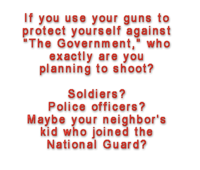 poor frosty... news flash... snow melts.

100% Charity

Something does NOT add up...

No Fracking

The 99% Need a Raise

Conflict of Interest