Pictures
The Party of NO Rights

The same political party that tries to take away Voting/Civil/Human/Religious/Social and Constitutional Rights encourages people to take up arms in the fear that "government" is taking away our rights.
Pictures from Other Sites
Random Pics
Yes He Cain

Who wants to repeat Bush's mistakes?

Trump-Bachmann Dream Ticket

Update on the "War" on Christmas

Obamacare... I built that!

Cartman - Secession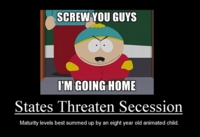 Find Money to Help People

Fox News and Yellow Snow

Paul Ryan=Government Assistance

Your Church Wants to Endorse Politicians?