Pictures
Where The Cuts Should Be Made

Salary retired U.S. President/House & Senate members/Speaker of the House/Majority & Minority Leaders VERSUS Salary of soldier deployed in Afghanistan & senior of Soc. Sec. "I think we found where the cuts should be made!"
Pictures from Other Sites
Random Pics
Mitt the Twit

Should Have Said Trapper Keepers

I'm against it!

I'm equally tea'd

That's a Meme Tomorrow

Prisons Do Not Disappear Social Problems

Honk if you love Jesus

The Feds Owe Social Security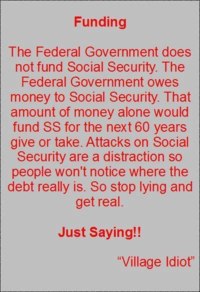 Glenn Beck Moron

That Special Fox News Gay Marriage