Pictures
Where The Cuts Should Be Made

Salary retired U.S. President/House & Senate members/Speaker of the House/Majority & Minority Leaders VERSUS Salary of soldier deployed in Afghanistan & senior of Soc. Sec. "I think we found where the cuts should be made!"
Pictures from Other Sites
Random Pics
Republican Outrage is Hypocritical

Unemployed Clown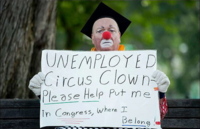 I'm with this guy.

Let Mitt Fix Washinton

Homeless Vets

When Obama Debated Clint Eastwood

Be Scientifically Literate

No One Should Die or Go Broke Because of Illness

Texas Baptist Church

Imprisoned in the Land of the Free