Pictures
The Right to NOT Get Shot

Photos of kids and adults with guns and school bus of children: My child's right to not get shot at school supersedes your right to own any gun you want.
Pictures from Other Sites
Random Pics
My Charm!

Obamacare... I built that!

Republicanism - Born of Privilege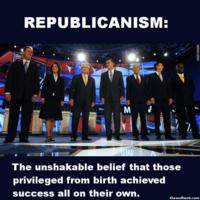 Never the Victim's Fault

Something does NOT add up...

Climate Changed

Keep Your Church Out of My Sex Life

The "Moral Majority"

Got'em right where I want'em

VOTE